Thermocouple Data Logger also Measures Voltage, Flow, Level etc.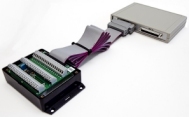 Manchester, UK –?? The new Microlink thermocouple data logger not only logs temperature data but can also measure voltage, flow, level etc. Additionally, it provides digital I/O and event and frequency counting.
Read on for more details or see:?? www.windmillsoft.com/daqshop/thermocouple-data-logger.html.
The Thermocouple Data Logger:
– Monitors 16 thermocouples or voltage signals
– Has built-in linearisation for B-, E-, J-, K-, N-, R-, S- and T-type thermocouples
– Automatically detects broken thermocouple leads
– With extra hardware also measure strain, current and pH
– Reads data over an Ethernet network or over the Internet
– Reduces electrical noise with an integrating analogue-to-digital converter and differential inputs
– Lets you select the resolution of the A-D converter from 12- to 18-bits: choose high resolution or high speed
– Automatically recalibrates itself
– Offers two alarms on each input
– Lets you choose real-time data acquisition on your PC or stand-alone data logging
Thermocouple Measurement
=======================
The system comprises a Microlink 851 measurement unit, an isothermal box, Windmill data acquisition and control software
and technical support for life.
You connect the thermocouple wires to screw terminals in the Microlink isothermal box. This keeps the temperature of the
thermocouple junctions constant, measured by a cold junction sensor in the box.
Plug the isothermal box into the Microlink 851 using its ribbon cable. The isothermal box will also detect broken thermocouple leads for you.
For more information on monitoring thermocouples, see our tutorial on computerised thermocouple measurement. at: www.windmill.co.uk/temperature.html.
Further Reading
===============
More information on the 851-TC package: www.windmillsoft.com/daqshop/thermocouple-data-logger.html
How to make temperature measurements – pitfalls of monitoring thermocouples and RTDs: www.windmill.co.uk/temperature.html
Windmill Software Ltd,
PO Box 58, North District Office,
Manchester, M8 8QR, UK
Telephone: +44 (0)161 833 2782
Facsimile: +44 (0)161 833 2190
E-mail: monitor@windmillsoft.com
Websites: www.windmill.co.uk and www.windmillsoft.com