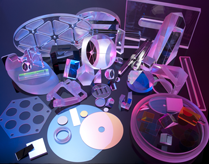 Santa Ana CA, USA ??? Precision Glass & Optics (PG&O) solutions for shortwave infrared (SWIR) imaging applications.
Specially enhanced thin film optical coatings from PG&O are designed to optimize shortwave infrared imagery. Ideal for imaging through environmental conditions such as night time, fog, smoke, and water vapor, PG&O???s SWIR filters enhance performance to deliver higher quality images with greater detail than is possible without the use of optimized filters.
PG&O designs SWIR optical components to obtain the very best optical quality and imaging performance in low-light, moonlight, and starlight conditions. The company also provides high performance turnkey optical solutions for a variety of military, defense, avionics, industrial, and biomedical applications.
All coatings are manufactured to MIL specifications, including metal and dielectric mirrors, beamsplitters, filters, antireflection coatings, neutral density filters, transparent electro-conductive coatings, and other hard and dense optical coatings needed for high performance and durability.
Precision Glass & Optics??showcased the optimized SWIR optical components at SPIE Defense, Security & Sensing, Baltimore, MD, April 29 ??? May 2, 2013. They will next be seen at SPIE Optifab, Oct. 14 – 17, 2013 at the Rochester Riverside Convention Center, Rochester NY, USA.
ABOUT PRECISION GLASS & OPTICS
PG&O has delivered high quality, precision glass, optics, and optical coatings for a variety of applications for over 25 years. The company has an extremely large inventory of glass products and a full optical fabrication shop to provide advanced optical coatings and manufacturing large mirror blanks. Other services include CNC machining, polishing, slicing, sawing, scribing, grinding, edging, assembly, and more. With three large coating chambers, and an expert, in-house engineering staff, our cost-effective and reliable optics and advanced thin film coatings are ideal for military, aerospace, biomedical, imaging, laser, digital cinema, solar markets, and more.
Precision Glass & Optics
3600 West Moore Avenue
Santa Ana, CA
United States
Tel: +1 714.540.0126
Fax: +1 714.540.1482
Email: info@pgo.com
Website: www.pgo.com