By Daqhelper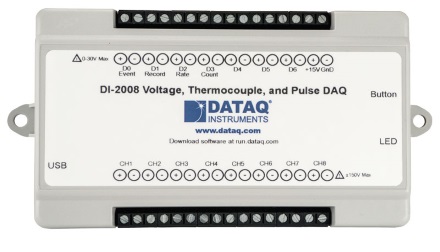 Online. —  Periodic firmware updates for the DI-2008 voltage and thermocouple data logger will include bug fixes, performances improvements and/or feature additions.
DATAQ Model DI-2008 is an eight-channel USB Voltage and Thermocouple DAQ.
Product details online at: https://www.dataq.com/products/di-2008/.
Click here to download the latest firmware revision.
To update the firmware:
1. Start with the DI-2008 disconnected from your PC
2. Hold down the pushbutton on the side of the DI-2008, and connect the unit to your PC
3. With the DI-2008 connect to the PC, release the button (the mode LED should be solid white)
4. Run the Update.exe application and click the 'Update Firmware' button
5. Once the update is complete, a message will appear indicating that the firmware update completed successfully
6. With the update complete, unplug the USB cable, and plug it back in again
7. The LED will blink green, indicating that you're ready to run the 'DI-2008 Acquisition' software
Additional Reading:
DI-2008 Thermocouple, mV, V, Pulse DAQ Preview
New, Free .Net Classes and Example Programs
DATAQ Instruments offers data logger products for any application and budget. From simple temperature and humidity monitoring to complex mixed measurement applications, we have affordable data logger product solutions that fit your most unique and ambitious requirements. Our products support WiFi, hard-wired Ethernet, and USB interfaces. Most can be supplied to support either PC-connected and stand-alone applications.